Email:
sales@wheeltractor.com
wheeltractor@hotmail.com
Skype:wheeltractor
Tractor PTO Shaft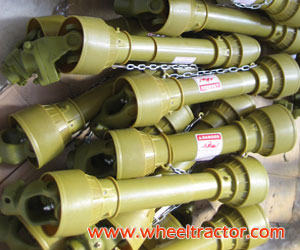 Product Name: Tractor PTO Shaft
Payment Terms:T/T, L/C At Sight
Package:Pallet Packing or AS CUSTOMER REQUIER
Minimum Order:1 SET
Delivery Time:15 Days - 30Days
Export Markets:North America, South America, Eastern Europe,
Southeast Asia, Africa, Oceania, Mid East, Eastern Asia, Western Europe
Tractor PTO Shaft
A PTO Drive Shaft or Cardan Shaft is a mechanical device for transferring power from the engine or motor to the point where useful work is applied. Most engines or motors deliver power as torque through rotary motion: this is extracted from the linear motion of pistons in a reciprocating engine; water driving a water wheel; or forced gas or water in a turbine. From the point of delivery, the components of power transmission form the drive train.
PTO Drive Shafts are carriers of torque: they are subject to torsion and shear stress, which represents the difference between the input force and the load. They thus need to be strong enough to bear the stress, without imposing too great an additional inertia by virtue of the weight of the shaft.
More than 8 series of PTO shafts can be offered now. These shafts are available in the following specifications:
Tractor side yoke: 6 or 21 splines push pin yoke ;
Implement side yoke: 6 splines push pin shear bolt type yoke ;
Tubes: Triangular tube or lemon profile tube ;
Plastic guard: Yellow or black ;
Minimum overall length: 600-1800mm or 27"-60" .
Following are the tips how to order your PTO shafts:
Cross journal(Universal joint) size which decides torque of a PTO Shaft:

| | | | |
| --- | --- | --- | --- |
| Cross journal size | Ref. | | |
| Series 1 | 1.01 | 22mm | 54mm |
| Series 2 | 2.01 | 23.8mm | 61.3mm |
| Series 3 | 3.01 | 27mm | 70mm |
| Series 4 | 4.01 | 27mm | 74.6mm |
| Series 5 | 5.01 | 30.2mm | 80mm |
| Series 32 | 32.01 | 32mm | 76mm |
| Series 6 | 6.01 | 30.2mm | 92mm |
| Series 7N | 7N.01 | 35mm | 94mm |
| Series 7 | 7.01 | 30.2mm | 106.5mm |
| Series 8 | 8.01 | 35mm | 106.5mm |

3 Closed overall length (or cross to cross) of a PTO shaft.
4 Tubes or Pipes
We've already got Triangular profile tube and Lemon profile tube for all the series we provide.And we have some star tube, splined tube and other profile tubes but only for a certain sizes.
5 End yokes
We've got 13 types of splined yokes and 8 types of plain bore yokes. I will suggest the usual type for your reference.
You can also send drawings or pictures to us if you cannot find your item in our catalog.
6 Safety devices or clutches
I will attach the details of safety devices for your reference. We've already have Free wheel (RA), Ratchet torque limiter(SA), Shear bolt torque limiter(SB), 3types of friction torque limiter (FF,FFS,FCS) and overrunning couplers(adapters) (FAS).
7 For any other more special requirements with plastic guard, connection method, color of painting, package, etc., please feel free to let me know.
Other Products