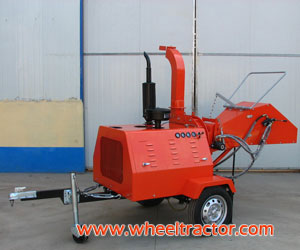 Diesel Wood Chipper Shredder
Go back to catalogue
Tractor Implements
Payment Terms: T/T, L/C At Sight
Package: Pallet Packing or as customer requier
Minimum Order:1 SET
Delivery Time:15 Days - 30Days
Export Markets:North America, South America, Eastern Europe,
Southeast Asia, Africa, Oceania, Mid East, Eastern Asia, Western Europe

Specifications diesel wood chipper shredder, diesel engine wood crusher
WC-40 can feed wood with a diameter of up to 200mm. WC-40 has hydraulic feeding system. It has two feed rollers and also has a system with a hydraulic tank and pump of its own. The hydraulic valve has three gears: forward, stop and reverse. The safety of user is secured with a patented feed stopper operated with the control handle.
Connector
This is the connector for be trailed. Sure, it can be made according to the requirement of customers.
Meters and Launching system
It has electric launching system. There are five meters on it: water temperature, machine oil, electric current, fuel oil, oil tank level.
Hydraulic oil tank
The oil tank is 38L.It guarantees that you can use it longer than ordinary one.
Blades
There are two steel dual edge fly wheel blades on the WC-40. Sure, if you need four blades on it, we can produce for you. The blade is made by tool steel.
Bed plate
There is one bed plate on the inner of the feeding chute. It can guarantee the service life of chipper.
Discharge chute
The discharge chute gives excellent airflow and easy adjustablility.
Tyres
The diameter of the tyre is 53cm. It is always used on minibus in China. Another choice is turf tyres.
Technology parameters
MODEL
WC-50
WC-40
WC-22
Dia. of wood
8"
8"
8"
power
diesel 4100(50hp,4 cylinder,2000rpm)
diesel 490(40hp,4 cylinder,2000rpm)
diesel 1115(18hp,1 cylinder,2000rpm)
Dia. of rotor
600mm
600mm
600mm
flywheel turning speed
1025rpm
feeding system
hydraulic feed, adjustable speed
hydraulic feed,adjustable speed
Hydraulic feed,adjustable speed

stop-reverse-forward

stop-reverse-forward
stop-reverse-forward
blade
2 hardened steel blades
chips sizet
thickness<4mm
Discharge chute
360 degree discharge rotation
weight
910kg
800kg
640kg
working efficiency
9-10cbm/h
8-9cbm/h
7-8cbm/h
volume of tank
38L
38l
/
package size (l×b×h)(mm)
1730×1360×1360(axle on machine)
1730×1360×1360(axle on machine)
1350×1360×1360(axle on machine)

iron frame

1730×1080×1360
1730×1080×1360
1350×1080×1360
40ft container can load 16 sets
40ft container can load 16 sets
40ft container can load 24 sets
Note: We can produce the chipper according to customer's design or idea.OEM/ODM can be accepted.
Welcome to our website! Please feel free to send us your inquiry in detail, we will reply you as soon as possible.