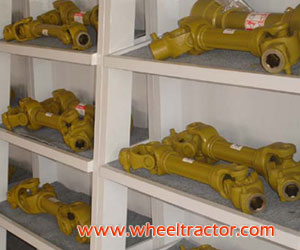 P.T.O.Drive Shaft
Go back to catalogue
Tractor Attachments
Payment Terms: T/T, L/C At Sight
Package: Pallet Packing or as customer requier
Minimum Order:1 SET
Delivery Time:15 Days - 30Days
Export Markets:North America, South America, Eastern Europe,
Southeast Asia, Africa, Oceania, Mid East, Eastern Asia, Western Europe

PTO shaft, PTO drive shaft, universal shaft, universal drive shaft, universal joint, drive shaft, agriculture PTO shaft, agriculture drive shaft, driveline, shaft coupling, insurance bolt shaft, with LID shaft, PTO drive shaft with clutch, etc.
Our PTO shafts can be used for rotary tiller, wood chipper, finishing mower, topper mower, slasher, flail mower, round hay baler, square hay baler, disc mower, post hole digger, ditching machine, etc.
1. We provide PTO shaft series 1#, 2#, 3#, 4#, 5# , 6#, 7#, 8#.
2. Cross journal specifications:
3. series 1#: 22* 54mm
series 2#: 23.8* 61.3mm
series 3#: 27* 70mm
series 4#: 27* 74.6mm
series 6#: 30.2* 92mm
series 7#: 30.25* 106.35mm series 7N 35* 94mm
series 8#: 35 * 106.5mm
4. Types of tube: triangle profile tube, lemon profile tube.
5. Minimum overall length : 600-1800mm or 27-60
6. End yokes & safety devices: quick release yokes, plain bore yokes, friction
Type torque limiters, ratchet type torque limiter, etc.
7. Plastic safety guard : black or yellow.
8. Minimum Order: 100 Set
Welcome to our website! Please feel free to send us your inquiry in detail, we will reply you as soon as possible.