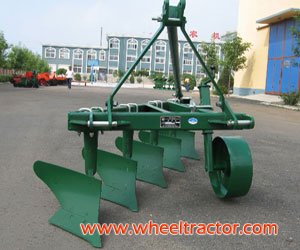 Share Plough
Go back to catalogue
Share Plough
Payment Terms: T/T, L/C At Sight
Package: Pallet Packing or as customer requier
Minimum Order:1 SET
Delivery Time:15 Days - 30Days
Export Markets:North America, South America, Eastern Europe,
Southeast Asia, Africa, Oceania, Mid East, Eastern Asia, Western Europe

Our main products consist of disc ploughs, disc harrows, share ploughs, rotary tillers, rotary stubble crushers, wheat planters, corn planters, single disc planters, middle cultivators, soil ridgers, soil loosening wheat and rice machines, harvesters, wheat and corn threshers, tractor trailers, slashers, gearboxes, plough and harrow discs, cultivation chisels and points, and hand tools. Moreover, we also can supply other products according to customers' drawings and samples. We will satisfy our customers with our best products and services.
Share plough, in cold and temperate climates, no deeper than 20 cm, aerates the soil by loosening it. It incorporates crop residues, solid manures, limestone and commercial fertilizers along with some oxygen. By doing so, it reduces nitrogen losses by volatilization, accelerates mineralization and increases short-term nitrogen availability for transformation of organic matter into humus. It erases wheel tracks and ruts caused by harvesting equipment. It controls many perennial weeds and pushes back the growth of other weeds until the following spring. It accelerates soil warming and water evaporation in spring because of the lesser quantity of residues on the soil surface. It facilitates seeding with a lighter seeder. It controls many enemies of crops (slugs, crane flies, seedcorn maggots-bean seed flies, borers ). It increases the number of "soil-eating" earthworms (endogea) but is detrimental to vertical-dwelling earthworms (anecic).
Model

1l-230

1L-330

1L-430

1L-335

1L-435

1L-535

1 L -635

Nos of share

2

3

4

3

4

5

6

mmWidth of share

300

300

300

350

350

350

350

(m) Working width

0.6

0.9

1.2

1.05

1.4

1.75

2.1

(mm) Working depth

220~270

220~270

220~270

270~300

270~300

270~300

270~300

(kg) Weight

197

248

344

380

432

520

613

(hp) Fitted power

35

50

65

55~65

65~80

80~120

100~120

Linkage

(Standard three-point mounted)
Welcome to our website! Please feel free to send us your inquiry in detail, we will reply you as soon as possible.