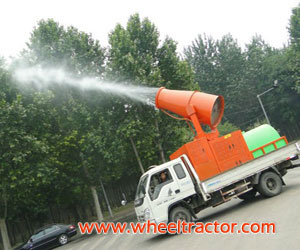 Truck Mounted Sprayer
Go back to catalogue
Sprayer
Payment Terms: T/T, L/C At Sight
Package: Pallet Packing or as customer requier
Minimum Order:1 SET
Delivery Time:15 Days - 30Days
Export Markets:North America, South America, Eastern Europe,
Southeast Asia, Africa, Oceania, Mid East, Eastern Asia, Western Europe

water truck mounted sprayer
1.CE, ISO,CCC approved
2.Spraying range is high and far

It is suitable for the prevention and control of various economic plants and protective forest pests and diseases. The high air volume and high wind pressure can completely atomize the matched pesticide liquid, and can effectively and quickly turn the plant leaves to make the pesticides highly saturated. Covering the trunk and leaves of plants, it plays a role in controlling pests and diseases.

It is suitable for the prevention and control of pests and diseases of tall plants such as urban landscaping, flowers and plants nursery, and tree-lined trees, as well as the cleaning and beautification of flowers and trees.

In the production process such as mining or shipping, such as coal mine yards, engineering and construction disassembly and assembly sites, material storage yards, open-pit coal mining areas, cargo terminals, garbage shipping yards, etc., for the easy to disperse, floating in the air containing powder Spray dust removal is the best solution for the effective control and treatment of dust, dust and dust.

It is suitable for large-scale sterilization, disinfection, sanitation and epidemic prevention in public places such as city street stations, docks, schools, airports and garbage dumps after disasters.

For the production sites that are not suitable for air-conditioning cooling, especially in high-temperature industries such as smelting and casting, in order to provide a good production environment for production workers, spray humidification, cooling, and dust removal are the preferred methods for various industries.

| | | | |
| --- | --- | --- | --- |
| Model | FG-50 | FG-60 | FG-70 |
| Diameter of fan | 500mm | 600mm | 700mm |
| Wind pressure | <2000Pa | <2000Pa | <2000Pa |
| Wind flow capacity | >240CBM/min | >240CBM/min | >240CBM/min |
| Horizontal range | >35m | >45m | >55m |
| Vertical range | >25m | >35m | >45m |
| Rotating speed of fan | 2800rpm | 2800rpm | 2800rpm |
| Water flow capacity of pump | 25-50L/min | 25-50L/min | 25-50L/min |
| Pressure of pump | >4MPa | >4MPa | >4MPa |
| Diesel engine | 15Hp | 35Hp | 45Hp |
Welcome to our website! Please feel free to send us your inquiry in detail, we will reply you as soon as possible.