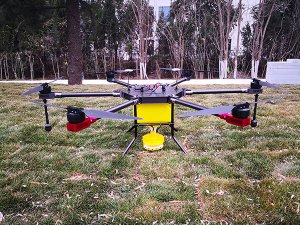 15L Agriculture Sprayer Drone
Go back to catalogue
Farm Drone
Payment Terms: T/T, L/C At Sight
Package: Pallet Packing or as customer requier
Minimum Order:1 SET
Delivery Time:15 Days - 30Days
Export Markets:North America, South America, Eastern Europe,
Southeast Asia, Africa, Oceania, Mid East, Eastern Asia, Western Europe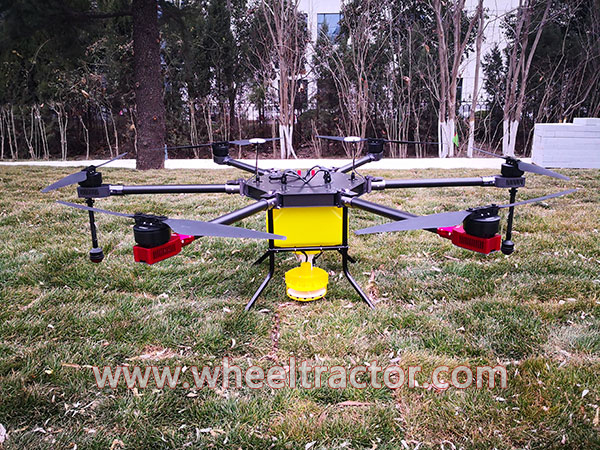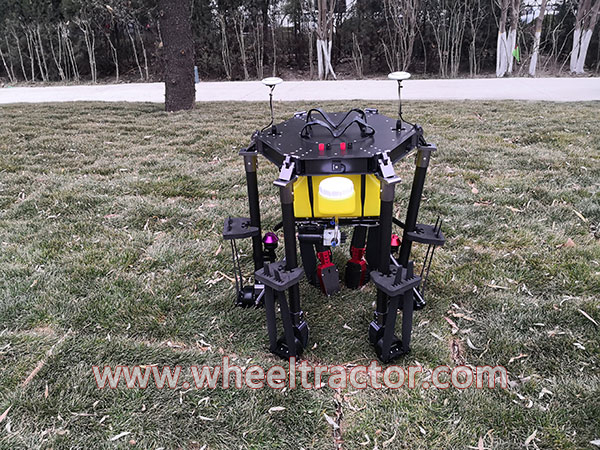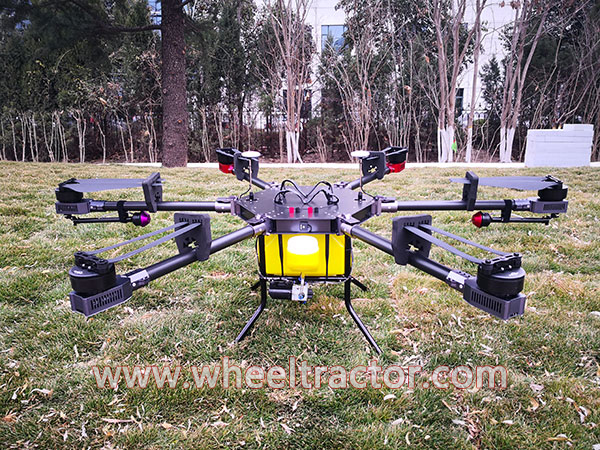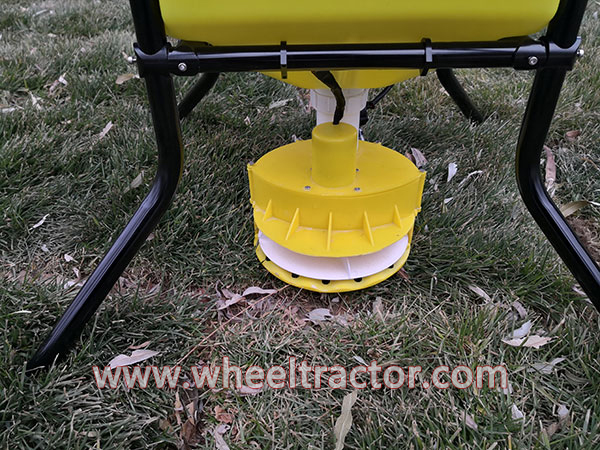 dvantages:
1) Security.
The agriculture sprayer drones protect farmers from poisoning and heatstroke, while spraying liquid pesticides, fertilizers and herbicides on agricultural land.
2) High efficiency.
50-100 acres can be sprayed per day, which is 30 times more than the traditional knapsack sprayer.
3) Environment protection.
Water and soil pollution is severely reduced with the fixed position and orientation method.
4) Wastage reduction.
30% of pesticide saving is established by a high degree of atomization and as the chemical fog can be sprayed to all levels of the crop.
5) Water saving.
90% of water can be saved in comparison to traditional spraying methods. This is possible by utilizing ultra low volume spraying technology.
6) Lower cost.
There is a 97% reduction in cost compared to traditional spraying methods.
7) Wide range of applications.
It's not influenced by the terrain and crop height, has an ergonomic and innovative remote control, easily manages low altitudes flights and does not harm the crop.
8) Easy to use and maintain.
Ag drone has a long productive lifespan, low maintenance cost, and its parts are easy to replace, as and when required.
Features:
1) Efficient
Joyance spraying drones are with much longer drone width, and much bigger spraying span. They can spray more land in same time.
2) Effective.
As every nozzle of Joyance agriculturer UAV duster crop sprayer is under the drone propeller so the pesticide fog can be directly sprayed to all levels of the crop.
This is possible due to the strong air flow generated by the propellers, so every nozzle is highly effective.
3) Easy to operate.
Joyance pesticide spraying drones are equipped with a specially designed pesticide spraying method. Even a beginner can operate the spraying drone very easily and efficiently.
A single finger can operate the drones forward and reverse movement at an assigned speed, while maintaining the same altitude and trajectory.
4) Easy to transport.
Joyance fumigation drones have an umbrella design folding frame so it's convenient to fold and transport.
5) Works continuously.
As there are six axles, Joyance drone agriculturer sprayer can work continuously and the even distribution of the workload, allows the motors to easily bear the workload. There's considerable time saving due to the avoidance of a cooling down period for the motors.
6) Quality control.
Before despatch, every drone is 100% tested and has to pass through a rigorous quality control test to confirm it meets the highest standards in performance and durability.
7) Neat design.
Joyance AG drones adopt a special wiring board to assemble the electric motor and ESC, which ensures the internal wires are neatly arranged.
8) Easy to maintain and repair.
Joyance Tech always utilize high grade components. As the parts are interchangeable, therefore the maintenance costs are very low.
Specification:
Model
JT15L-606
Pesticide Tank
15L
Net Weight
13.5kg
Take-off Weight
31kg
Max Take-off Capacity
38kg
Flying Time
10~15min
Flying Radius
0~1000m
Flying Height
0~30m
Flying Speed
0~12m/s
Work Temperature
-10~70°C
Work Humidity
0~90%
Spray Speed
0~8m/s
Spray Width/Nozzle No.
>4~6m / 2 Centrifugal Nozzles
Spray Flow
2~2.5L/min
Spray Efficiency
1500~3000sq.m/min
Flying Downward Airflow
4~15m/s
Wind Resistance
10m/s
Machine Size
Spread Size
W1.8m x L1.8m x H0.48m
Folded Size
W0.7m x L0.7m x H0.63m
Power System
Motor
Brushless
Propeller
Carbon Fiber
ESC
Rapid Throttle Response
Flight Control
Joyance Black V8.3
Remote Controller
Joyance Datalink 32 RC
Battery / Quantity
6S 16000mAh / 2pcs
Adapter + Charger
8-way Charger
Packing Case
Aluminum Case
Toolkit
Maintenance/Repair Tools
Optional:
FPV
Fixed Camera + Image Transmission
7" Screen + Tripod + Battery + Sunshade
Intelligent Spraying
Flowmeter
Terrain Following Radar
Autonomous Spraying
Waypoint Marking Device
Ground Station App / Software + Radio Telemetry
Continuous Spraying
Extra Batteries
Extra Charger
Multifunction
Granule Spreader
Welcome to our website! Please feel free to send us your inquiry in detail, we will reply you as soon as possible.